Feature highlights of i-Clarity Core, i-Clarity Advanced and i-Clarity Pro
The system is designed around the Patient Information card – just find the patient record and all key information about that patient is immediately to hand.


Automatic colouring of fields highlight critical information e.g. children under 16 and patients with outstanding balances; and with optional, user-definable prompts you can ensure records are completed and consistent throughout the practice.
Patient records can be assigned codes as a prompt to alert staff to clinical information, accessible information requirements or to group patients into groups for marketing purposes.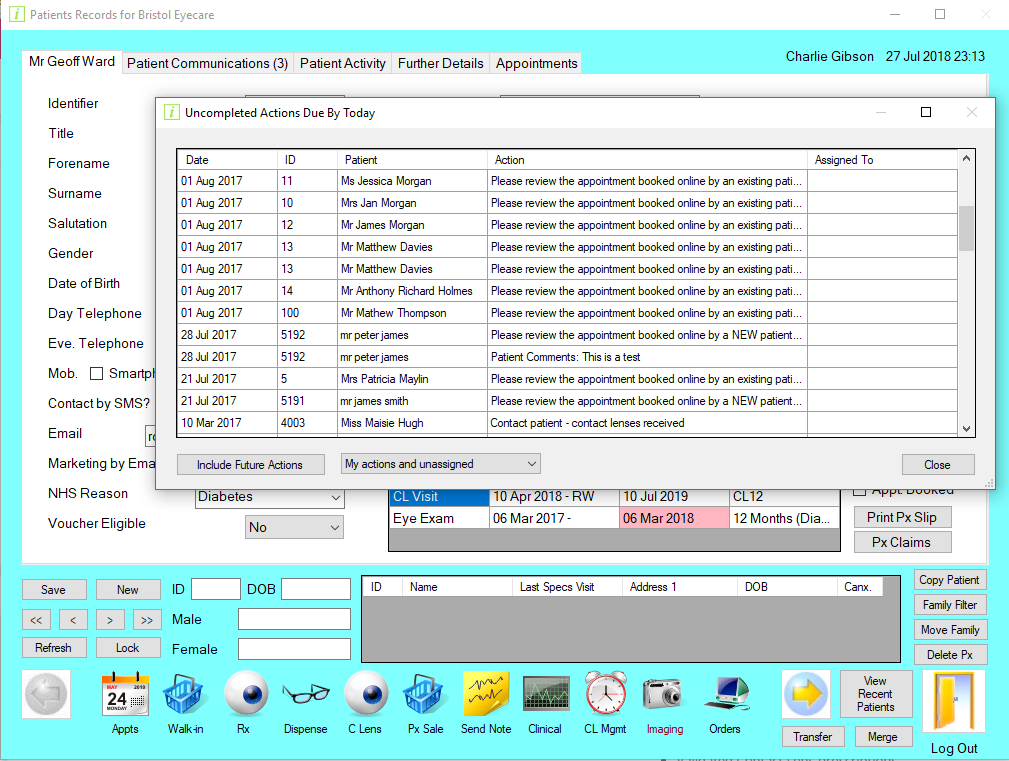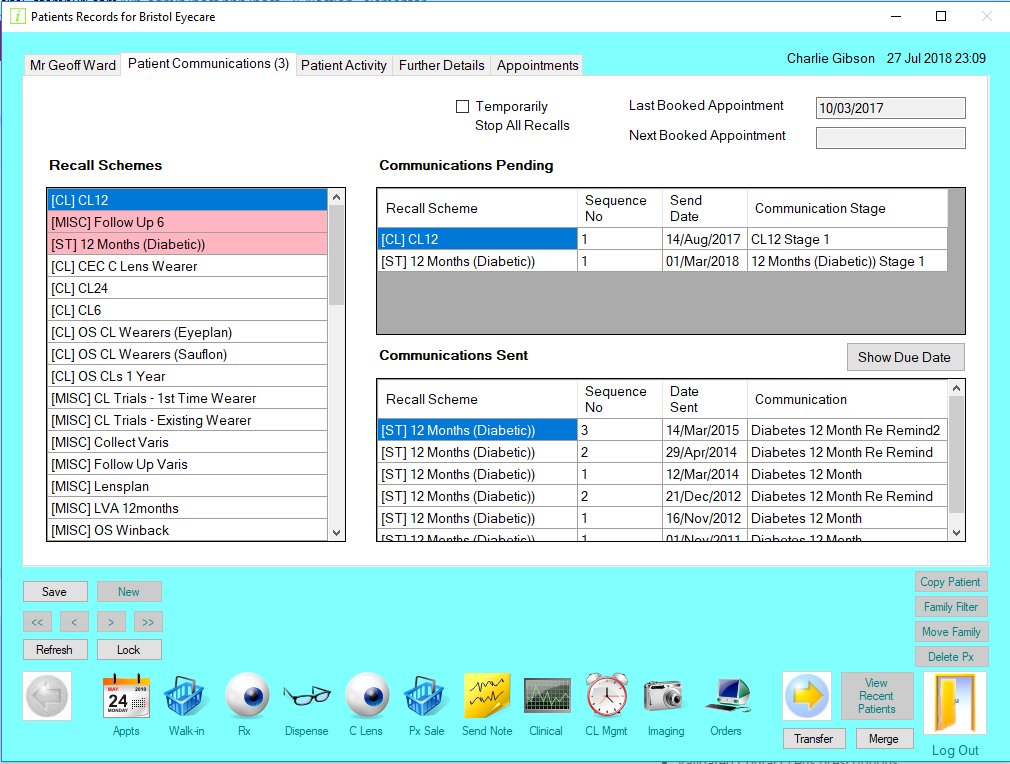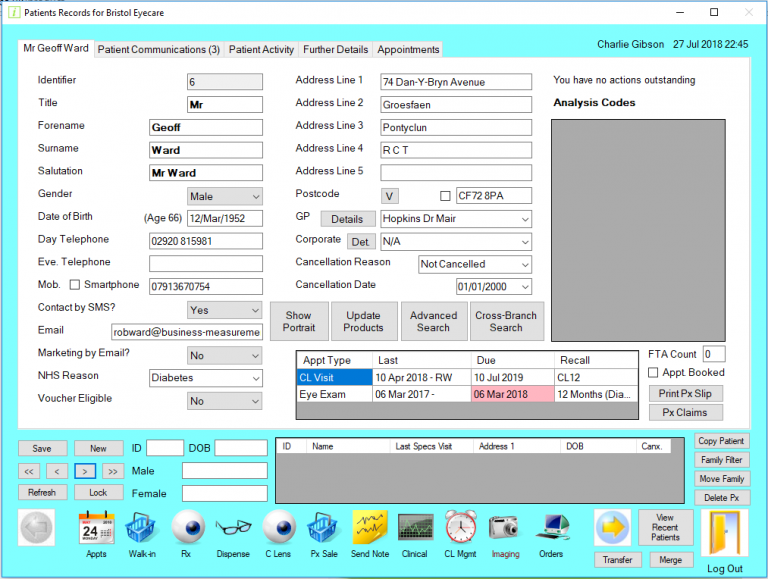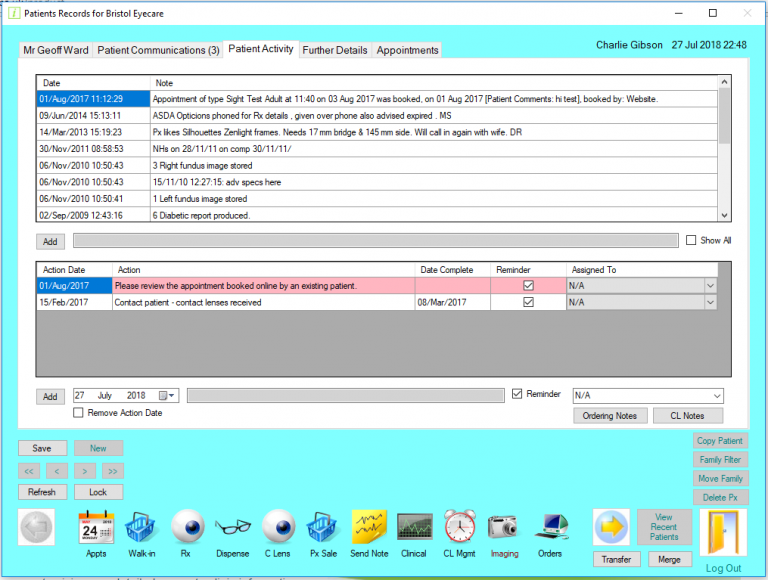 Other features of the patient record card include:
Patient search by multiple criteria including family groups
Integrated internet postcode lookup
Duplicate record check – merge duplicate records
Patient notes
Action lists to keep track of tasks to be completed
Forms, Letters, and Documents that merge with patient information
Store and retrieve any document type against the
patient record card – e.g. scanned fields, scanned replies from GPs etc
GP details for use with referral letters and forms
Multiple prescription records
Full Rx details
Free text sight test notes form
Printing of referral letters
Default to plus or minus Cyl
Full CL Rx details
Validated Contact Lens prescriptions
With this innovative and powerful appointment diary you can optimise your clinic booking and maximise your revenue.

There is visual representation of the appointment duration and the appointment type, along with printable reports giving you detailed accurate clinic information. Patient record cards and NHS forms can be printed in bulk at the click of a button reducing the time it takes to prepare for a clinic.

With an inbuilt cancellation list and appointment reminders you can minimise those cancellation and failed to attend gaps.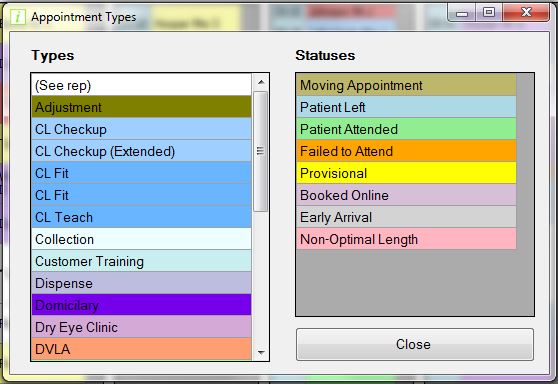 The i-Clarity appointment diary includes:
Colour coded appointments type and status
Printed or SMS appointment confirmations
Automated SMS or email appointment reminders
Clinic reports
Clinic History
Resource allocation
Visual representation of appointment length
Colour coded appointment types
Colour coded appointment status
Bulk printing of NHS forms
Bulk printing of record cards
Resource allocation e.g. parking spaces or specialist instruments
​i-Clarity allows you to fully configure your recall system, so you can optimise when and how you communicate with different groups of patients – maximising your recall response.
The i-Clarity recall system includes:
Multiple communication types (SMS, Email, Letters and Phone Lists)
Patient and practice preferred communication methods
Multiple recalls per patient
Complete history of communication with patient

Automated recalls for specs and CLs awaiting collection

Automated follow ups, e.g. customer satisfaction questionnaires or follow-ups  for higher value dispenses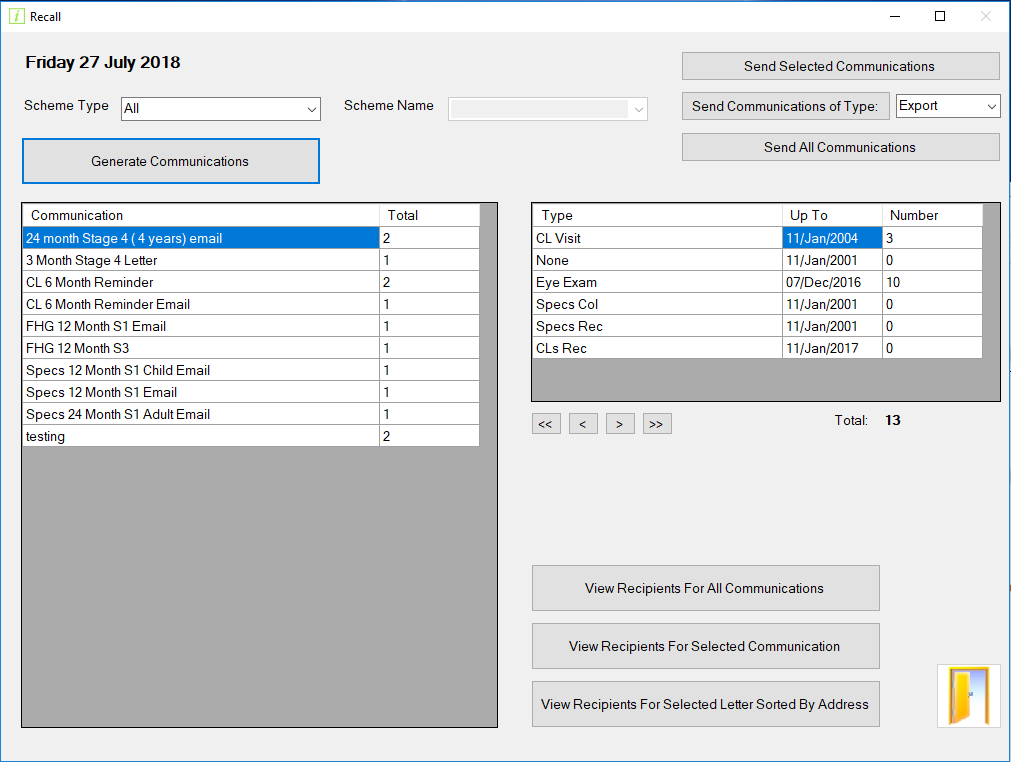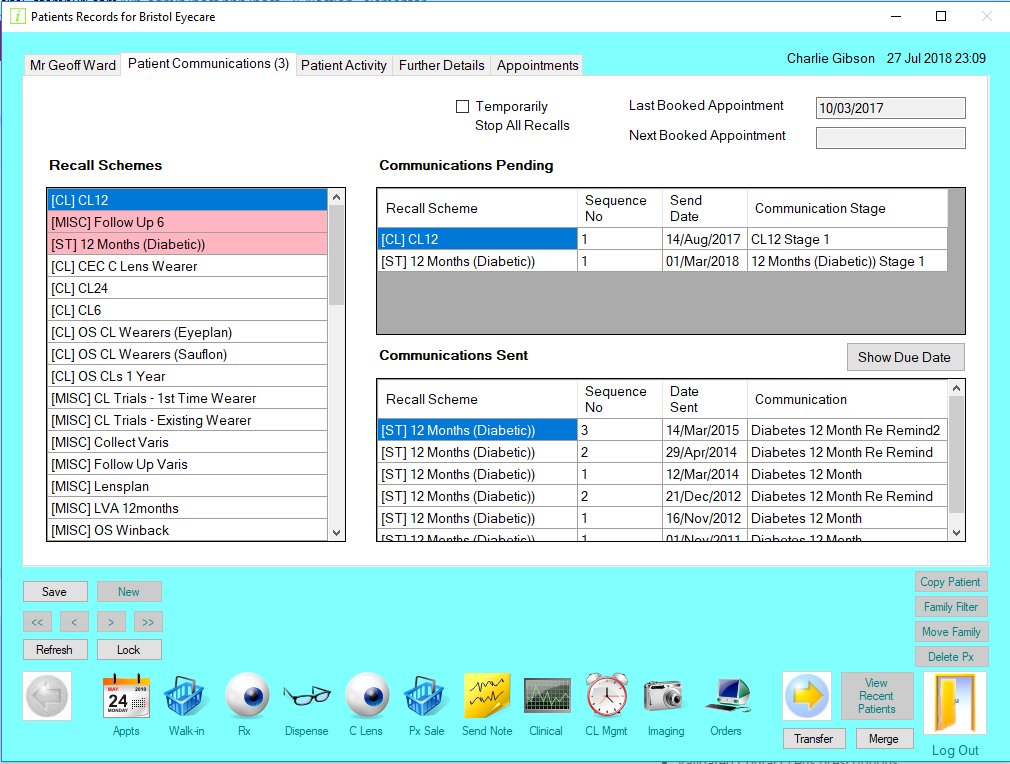 i-Clarity includes a powerful marketing module.
It allows you to comprehensively search for patients in specific demographics, using general, prescription and sales data.
Key features include:
Extensive search options, including searching for patients who have bought specific products or from specific ranges
Multiple communication types to use when sending your marketing correspondence
The option to export your patient info for 3rd party marketing fulfilment
i-Clarity has an extensive till module, comparable with that found in other retail environments but optimised for use in optical practices.
Transactions are recorded accurately and with a full audit history.
All sales (including walk-ins),  refunds and write offs and are recorded, so you and your accountant can have complete confidence in your sales figures.
This financial module is validated by  an end-of day  cashing up process that is second to none for ease of use, practicality and accuracy.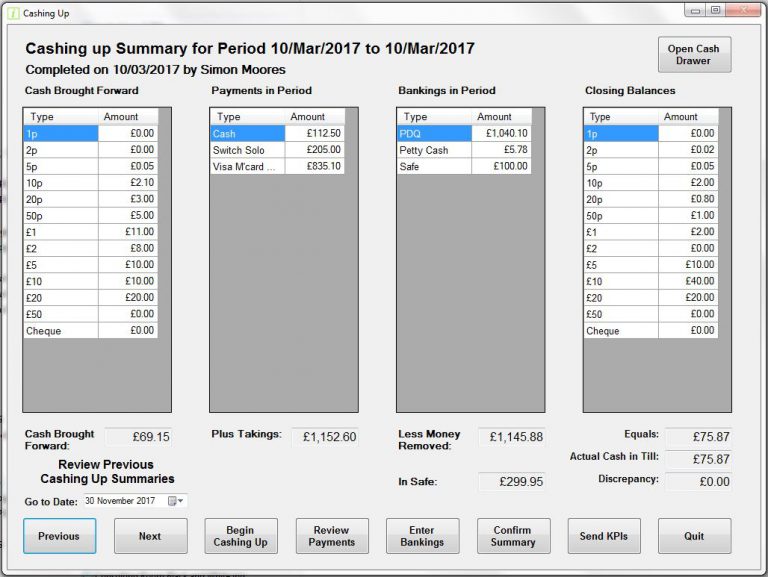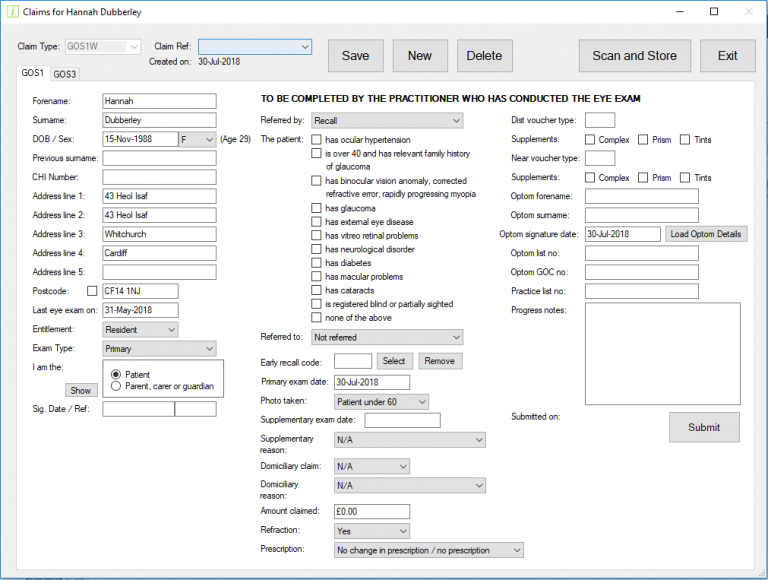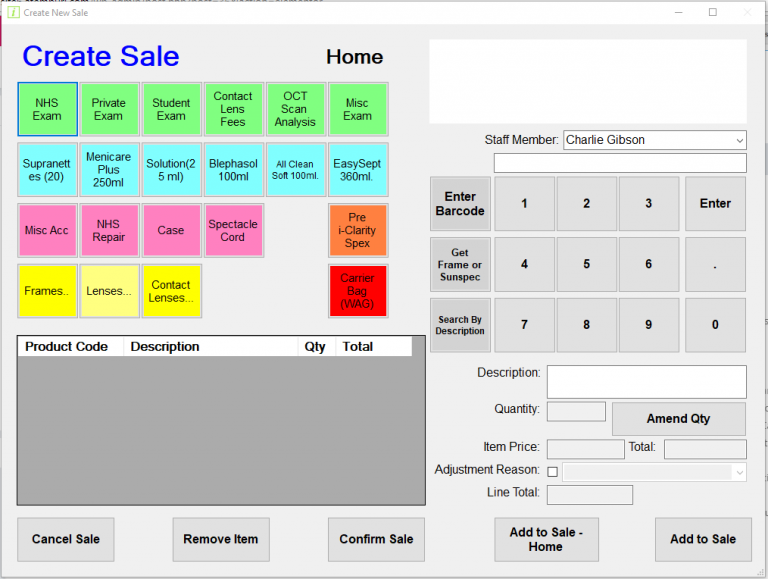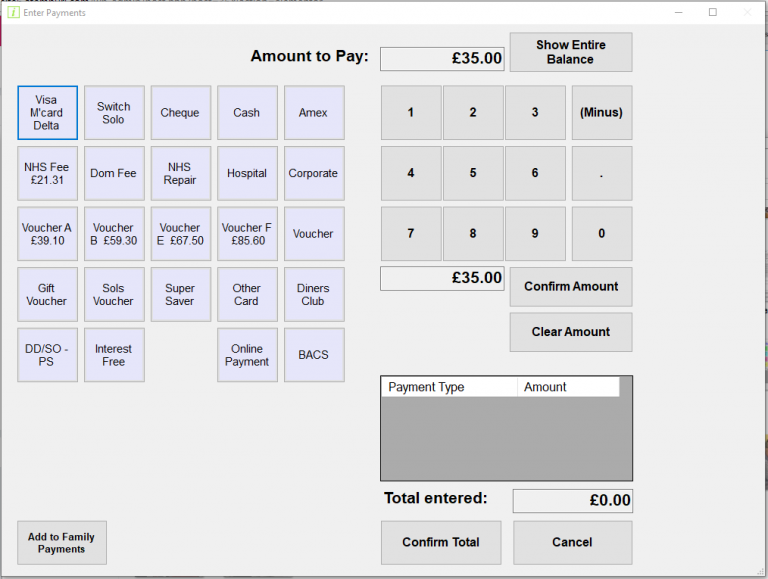 Feature of the patient sale include:
Integrated point of sale
Touch screen compatible
Full audit trail of all transactions
User definable products
Barcode compatible
User definable VAT types and analysis groups
% VATable, dispensing fee, cost plus VAT methodologies supported
Walk ins fully supported
Sales are allocated to staff members
Write off, refund and amend payment functions
Write offs and refunds automatically adjust VAT, sales and stock reports correctly
On screen cashing up module, including float brought forward
Separate entry of banking/PDQ/Credit transfers/Petty Cash for bank reconciliation
NHS and Corporate payment processing and reconciliation

User definable till buttons and till button pages

(Optional) Variable product availability and product pricing by branch

(Scotland) Fully integrated with eGos Submission

(England) Due 3rd Qtr 2018 Full integration with eGos submission
The i-Clarity dispensing module is fully integrated with the rest of the system, prescriptions are pulled through from the clinical or Rx, the till is updated when a dispense is confirmed, orders can be automatically uploaded to lab websites and patients automatically advised on order delivery.
The main feature of i-Clarity dispensing that sets it apart from other systems is its spectacle lens comparison screen, it mirrors the dispensing opticians conversation allowing you to compare lens features and prices on the same page helping you maximise each dispense.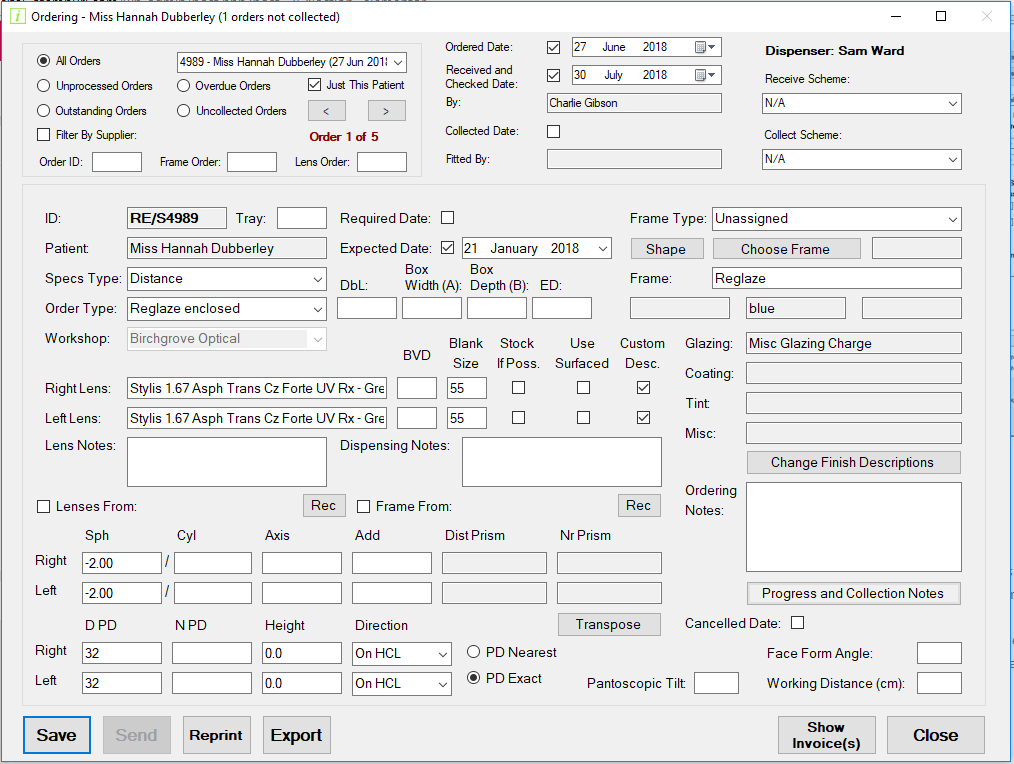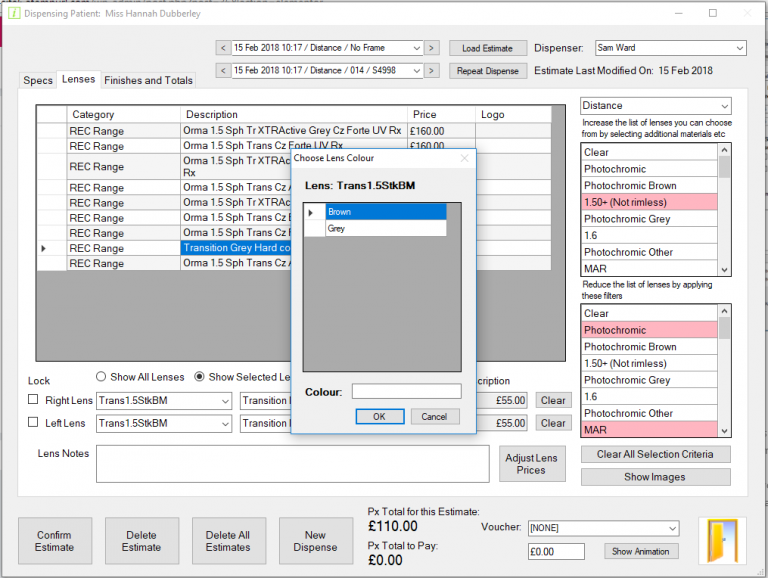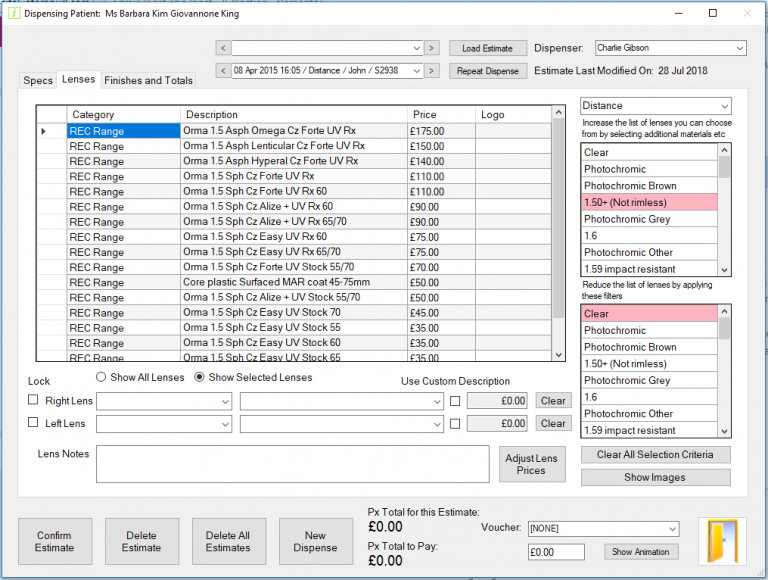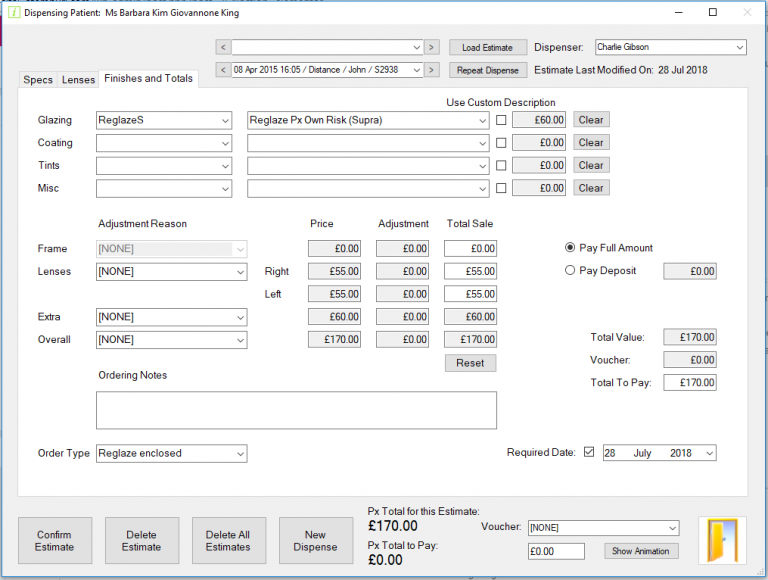 Main features of the dispensing module include:
Full system integration
Automatic stock adjustment
Optimised lens comparison
Automatic price adjustment for NHS voucher dispenses
The ability to include promotion prices and product combinations within specific time frames

Realtime lookup of frame stock availability across different branches

Uniquely easy to maintain validated lens and frame catalogues (including download options)
Contact Lenses and
Direct Debits
With the i-Clarity Contact Lens Management module you can effective control your contact lens ordering, and monitor your patient's regular payments.
Products supplied to patients and monies received are displayed in a clear manner so that you can review each patients' balance at any time.
The contact lens management module includes:
The ability to create patient specific packages of contact lens supply
Accommodates 'Own' Care schemes/ Savings Plans/ Interest Free Credit
Reconcile Standing Orders
Integrates with Direct Debit Software
Integrated with i-Clarity Till
Generate Standing Order/ Direct Debit Mandates
Automatic ordering of contact lenses and solutions optimising stock control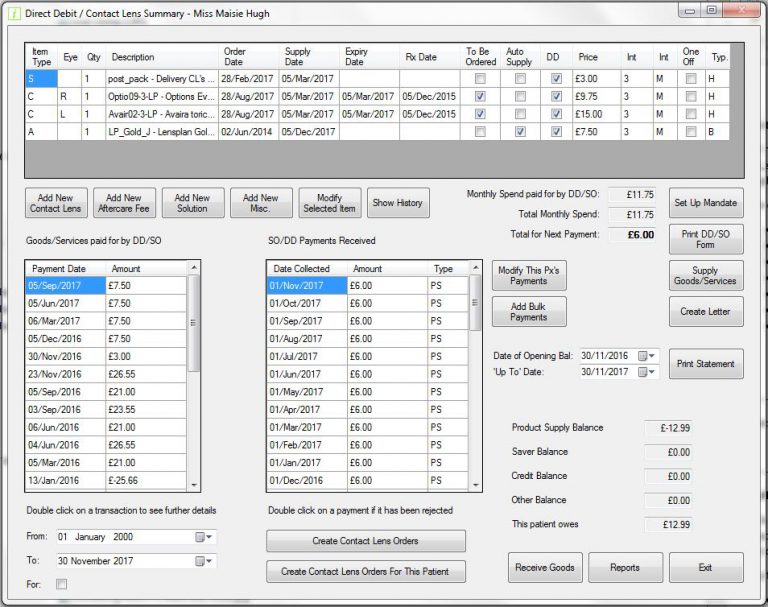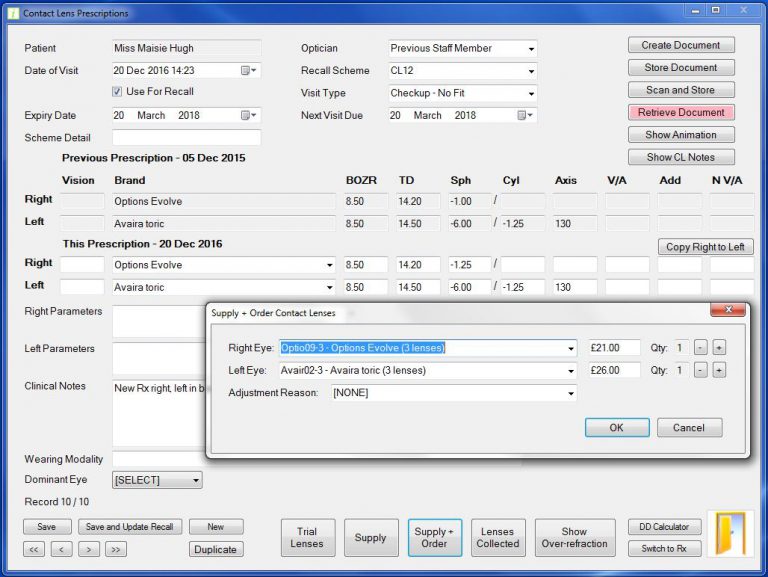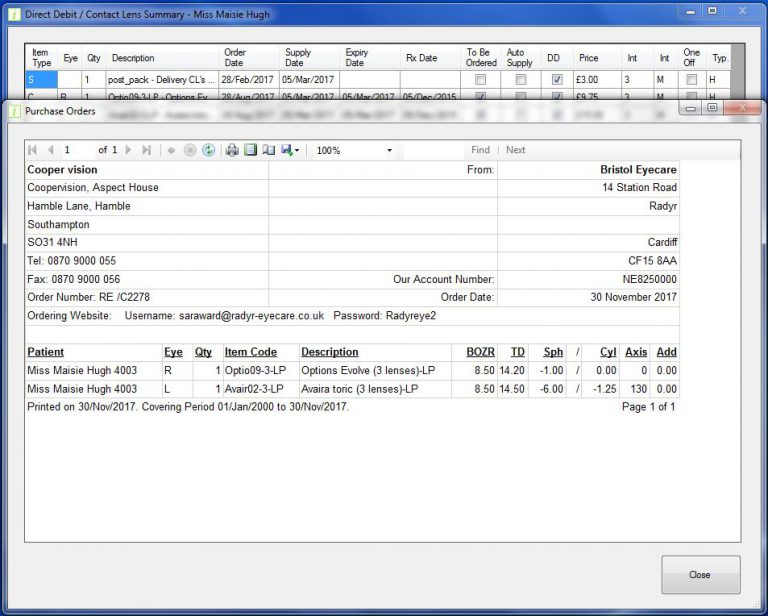 i-Clarity staff rota is an effective resource in helping manage staffing levels.
Its direct link to the appointment diary and the ability to import from excel there is no need for information to be stored out of i-Clarity.
Key features of the i-Clarity staff rota include:
Direct link to the appointment diary
Colour coded staff types so you can easily ensure correct staffing levels
The ability to import/export your rota into excel
Direct link to SMS for staff communication
Reports on hours worked, annual leave and sickness with given time periods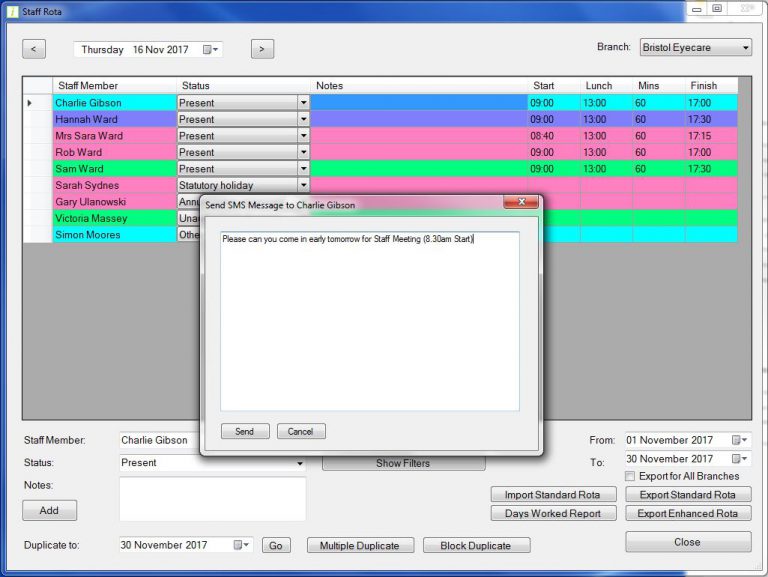 i-Clarity clinical records have been designed using direct input from our user base.
The whole of the clinical record is available on one page and the exam templates are individualised to your requirements.
The extensive features of i-Clarity Clinical Records includes:
Optional separate pre-screen module – can be conducted in a sperate room by optical assistants with different security level
Fully integrated with instrumentation e.g. lensmeters, autorefractors
Logical flow through the examination – previous prescriptions and dispensings, reason for visit, health, family history and ocular health, examination, refraction and outcome
Entire sight test on a single form – see at a glance all data pertaining to a visit
Contact lens module records recording unlimited, validated trials
Contact lens trials can be ordered automatically
User definable templates and glossaries (tags)
Scroll through all previous Rx's, pressures, dispensing's
Store and edit freehand drawings
Create, store and retrieve all patient documentation e.g. GP referrals, fields, ophthalmology reports
Switch between contact lens and spectacle tests with a single click
Validated contact lenses
Full audit tracking